#NAW2022 National Apprenticeship Week- James
Posted February 02, 2022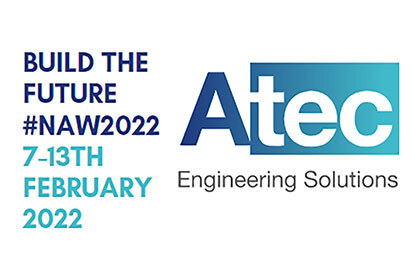 Meet 24-year-old James, who is an Electrical and Mechanical Maintenance Engineering Apprentice at Atec, he joined us in September 2019. James came to us after doing a Higher National Certificate (HNC) in Manufacturing Engineering, where his tutors thought James had gained the skills and knowledge to jump straight into a career in Engineering, but James felt like he missed out on key practical skills that he needed to succeed in the industry.
That's when James found us on the Gov website and joined Atec. He loves that he is always busy and learning from his mentor Dave, who has over 50 years' experience. "I think the people are so welcoming and supportive, they provided me with so much training and educational resources then showed me how apply them to real scenarios."
James attended college full-time for the first year to learn from the ground up and then progressed to one day a week at North West Training College where he found the lessons to be valuable and coupled with the knowledge, he was learning at Atec, he is more confident in his engineering skills than ever before. A week in the life for James, consists of electrical testing, wiring jobs, PAT testing, breakdowns, fitting mechanical checks and preventative, reactive and planned maintenance. James' mentor Dave said, "James is always willing to learn and trying to master something new all the time, he has learned so much already".
He has enjoyed doing his apprenticeship as it taught him theoretical and practical reasoning, and how to adapt to a variety of situations that you only get whilst studying in the field. He hopes to continue to grow with the company and is always searching for additional training to add more strinns to his ever-growing bow. Here at Atec we offer a variety of apprenticeships in various fields from the engineering side to learning supply chain, finance, operatic planning and more.