Exploring Opportunities in the USA
Posted February 02, 2018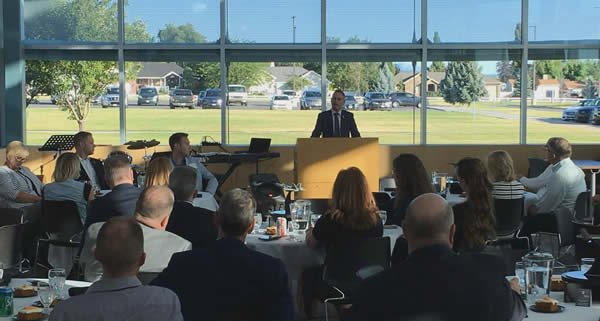 A delegation from ATEC and others representing the UK Aerospace and Composites sectors took part recently in a specialist Trade Mission. We were exploring opportunities for new business in Northern Utah – an area with a strong advanced manufacturing ecosystem.
The Trade Mission was arranged between the Department for International Trade (DIT) in collaboration with Composites & Aerospace of Northern Utah (CANU), and a consortium of organisations and industry representatives including World Trade Centre Utah, Economic Development Corporation of Utah, and the Department of Workforce Services.
ATEC met with numerous leading companies over the course of the three days. These included Orbital ATK, Lockheed Martin, Northrop Grumman, BAE Systems and Kihomac. We also visited numerous interesting sites. These included Hill Air Force Base, workforce development agencies, educational institutions and industrial sites. There was even time to experience local culture and recreation.
Strong Economic Ties
The economic relationship between Utah and the UK is already quite strong. As a result, the UK is consistently a major export market for Utah's goods and services. In 2016, the UK exported over $3 billion worth of goods. This activity supports over 15,000 U.S. jobs.
Over the past five years, Aerospace Products & Parts have ranked Top 5 in goods exported to the UK. Additionally, with over 60 UK-subsidiaries employing over 6,500 workers in Utah, UK-based firms are among the leading foreign investors in the State.
The agenda included B2B sessions, round-table discussions (with ATEC being involved as one of the Panellists) and various visits. All of these demonstrated the diversity of Industry and technology across Northern Utah. Each visiting company also presented to the consortium of organisations and industry representatives during the VIP dinner.
Significant Opportunity
ATEC recognises the huge potential of the US aerospace sector and particularly the concentration of activity in Northern Utah which represents an ideal opportunity to promote our capabilities. Following the numerous introductions and connections made during the trade mission, we look forward to continuing the dialogue and developing new relationships with the people and companies we met during the trip.
We are already planning further, follow up visits and meetings for September this year