Atec Move To Four Day Week
Posted September 09, 2022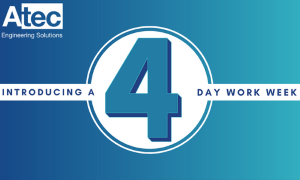 Atc are happy to announce that we will be trialling four day work week for all staff beggining from September 2022.
This comes after we have added Social Value to our Core Values in in order to highlight our commitment to Social Value as a whole including the health and wellbeing of our people. We hope that the introduction of the four day week will offer a greater work life balance for all and will support our goal towards total carbon reduction.
Atec value our customers, suppliers, people and charity partner and as a result, in an effort to limit and reduce any disruptions, if you require any immediate or urgency outside of our new working hours then you can contact, John Bowden, Mark Poole, Catherine Hitchen and Lisa Boyle.
*Please note that our new operating hours will be from 7:00am - 17:00pm Monday to Thursday.*
A huge thank you to all of our wonderful people for their continued support through this transition.